Posted: 10th April 2021 by Ian Colins
WaterUps® Water Saving Solution for Hobart Airport
In 2020, when Hobart Airport needed to reorganise and expand their drop off and pick up parking facilities, they also wanted to be able to showcase a 'greener' sustainable environment. But when you're one of the Australia's driest capital cities – with only 626mls of annual rainfall, the challenge was finding a solution that wouldnot only keep the plants alive, but thriving.
The solution: 30 decorative planters each containing the WaterUps® wicking system. With the WaterUps® wicking system they were able to significantly reduce water consumption – wicking is the movement of water by 'capillary action', where water is drawn upwards due to surface tension and the interaction of adhesive and cohesive force, eliminating the problem of deciding when and how much to water. This, in turn also reduces maintenance costs. To further enhance the benefits of the WaterUps® system, Hobart Airport chose a range of drought tolerant plants as part of their design.
A year on the planters look fantastic and the plants, as hoped are thriving. Michelle Kline from the Hobart Airport told us in March 2021 that since installation the planters had only needed to be watered twice and that they are excited to add more planters.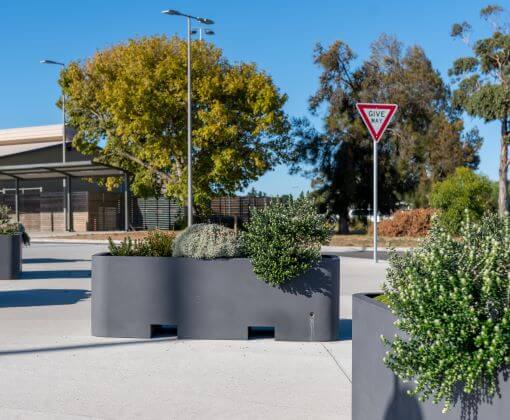 How we did it
The installation was undertaken by Horticultural and Landscape Supplies in Hobart, who are the WaterUps® distributors in Tasmania. HALS have also been involved in other large commercial installations of WaterUps® at Macquarie Point and in the Crowne Plaza Hotel in Hobart.
Refitting the Planters
Firstly, the drainage hole in each of the planters needed to be blocked and sealed and the base of the planters waterproofed. Then, 3 WaterUps® cells were added to each planter to create the water reservoir layer. A hole was drilled in the side of each planter to accommodate the overflow pipe and an inlet pipe was installed in each planter to allow the water reservoir to be filled.
Growing Media
HALS standard native potting mix was used with the addition of TerraCottem, a soil conditioning product.
Mulch Layer
An important component in maximizing the water efficiency of wicking beds is adding a mulch layer to insulate the soil and minimize evaporation. Hobart Airport requested 7mm blue metal be used for the mulch layer, which also provided a decorative appearance. Also, unlike organic mulches, it doesn't breakdown and therefore provides and longer lasting solution.