How We Got Started
WaterUps® water wicking cells were originally designed with the landscaper in mind. We were looking for an easier way to construct wicking beds, so that both landscapers and DIY gardeners would be encouraged to use them. We tested a number of different prototypes before deciding on the current registered design. Our vision was driven by a desire to encourage the growth of edible plants and improve the quality of our urban green spaces, while at the same time saving water
At WaterUps® all of our people are passionate about sustainability and encouraging the growth of urban green spaces. We come from a range of backgrounds including landscaping, nursery management, orcharding, engineering and business consulting.
WaterUps® from DownUnder's mission is to use its core skills and innovation to continue to provide more efficient green space and plant watering systems that save water and promote healthier plant growth.  
Wicking is the movement of water by capillary action without the assistance of gravity. In a gardening or horticulture context, it is the upward movement of water through soil, giving plants the ability to water from below. 
WaterUps® from Down Under are an Australian designed and manufactured water wicking cell that can be used in a wide variety of garden and landscape watering environments.
Man made wicking systems similar to those we see today can be traced back to the late 18th century.
There has been a range of academic research in Australia and the United States into garden wicking beds, sub-irrigation and "self watering" pots.
WaterUps® are members of leading industry associations covering landscaping and environmental education.
WaterUps® has received certification from independent bodies confirming that our water wicking cells save water compared to traditional methods.
Positive feedback from our customers is important to us. Read what our customers think of us.
Ian Collins – Director, Finance & Administration
Ian grew up on an orchard near Orange in NSW where his father was one of the early pioneers in organic farming in the early 1970's. He has continued his interest in agriculture and, after a long career in banking, decided to focus on urban horticulture. Ian co-founded WaterUps® with Vince Hunt in 2014.
Vince Hunt – Director, Research & Design
Vince's passion for gardening is evidenced by his background of over 40 years in urban and rural landscaping and garden design. He has also developed two boutique nurseries and is a practising Permaculture Designer. Vince's environmental connection has seen the development of efficient water use methods as a key driver in his journey.
Bob Stevenson – Director, Enterprise & Business Development
Bob has been an amateur chef and keen gardener for many years and loves to grow and use his own fresh produce.  With a significant background in building and developing business, Bob plays a key role in the sales and operational management and development of our company.
Michael Hort – Director, Industrial Design
Michael is a qualified mechanical engineer and industrial designer, and holds a postgraduate qualification in biomedical engineering. He has over 30 years of experience in industrial design, working with some of the leading Sydney consultancies before setting up his own practice in 2003.
Leanne Poynter – Office Administration Manager
Leanne worked in a nursery while at school and loved it. She is excited to be back in the industry.  Her organisational and administration skills allow us confidence that the back office and support functions are under control. Leanne also manages the order processing systems to ensure your orders arrive in a timely and accurate manner.
Angela Bricknell – Research & Soil Science
Angela brings her skills of science and microbiology from her career as a medical scientist to the area of research and development for Waterups®. A nutrition farming course focusing on Soil Science inspires her to grow nutrient dense organic food with her partner Vince on their farm.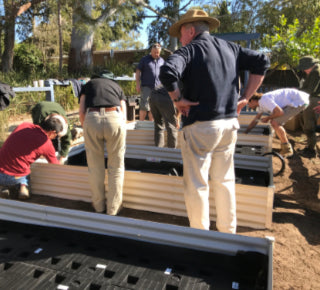 Our Mission at WaterUps® from DownUnder is to use our core skills and innovation to continue to provide improved green space and plant watering systems. In doing so, we hope to help reduce water waste, get best value from this valuable resource and improve the health, quality and output of plants in a range of urban and rural environments.
Our Vision is for WaterUps® from DownUnder to make a sustainable and healthy lifestyle more possible, by enabling you to 'grow your own' food more easily, and to conserve precious water and save your valuable time in the growing of plants generally.
Wicking is the movement of water by capillary action without the assistance of gravity. In a gardening or horticulture context, it is the upward movement of water through soil, giving plants the ability to absorb water from below. Water wicking beds eliminate the problem of deciding when and how much to water. They can last up to 4 weeks without watering, in contrast to surface watering, which needs frequent watering at intervals, as often as daily depending on climatic conditions.  Apart from the frequency of watering, there is a substantial saving of water itself using the wicking method.
Up until the launch of WaterUps®, the main method of constructing wicking beds was to use river sand or scoria. WaterUps® have proven to be a much more cost effective and commercially viable method of constructing wicking beds. They also operate more efficiently. Refer to our Comparison between WaterUps®and River Sand Wicking Beds.
The WaterUps® from Down Under water wicking cell is an Australian designed and manufactured product that can be used in a wide variety of garden and landscape watering environments. They are modular in design to enable the quick and easy construction of a water wicking bed also referred to as a "self-watering" bed. WaterUps® are manufactured from recycled polypropylene and are comprised of a rigid deck with 4 "wicking legs" that can be interlocked to form a raised platform or cut to shape to form a space that has a water reservoir below. Each WaterUps® cell is designed to allow the legs to be filled with soil / potting mix to act as wicks. These wicks allow water from the reservoir to moisten the soil layer above the WaterUps® cell base. Each WaterUps® cell is 40cmx 40cm with provision for an inlet and overflow pipe. The cells can be connected with cross shaped joiners, which due to their modular nature allow cells to fit any size or shape configuration. When constructed, the WaterUps® wicking cells can store around 120 litre's of water below each square metre of cells. WaterUps® weigh approximately 800gms each, are stackable and come in packs of 12, which with a combined weight under 10kg, makes them easy to carry. They can also be cut to shape or size using a jigsaw or hand saw to fit into narrower or irregular shaped spaces. The system is filled directly to the reservoir below via the inlet pipe using a garden hose. In the event of heavy rain any water that passes through the soil into the reservoir will be retained with any excess flowing out via the overflow pipe, thereby resulting in excellent drainage. There is always an air space of at least 10cms between the soil above and the water below allowing the soil to breathe. WaterUps® are over 30% cheaper and 50% more efficient than other wicking systems that use scoria or river sand. WaterUps® are also very light, weighing around 5kgs per square metre compared to a scoria bed of up to 200 kgs. WaterUps® wicking beds hold around 50% more water, so you don't have to water as frequently as other wicking systems.
In Australia we use the term "wicking". In America they call it "sub-irrigation. Water wicking is not, however, a new invention. Wicking has occurred naturally on earth since rivers first formed. Archaeological evidence of gardens irrigated by capillary action dates back about 2,500 years to near the City of Old Jerusalem. In more modern times, utilisation of wicking for plant watering can be traced back to Ohio in the 1890's. 'Popular Mechanics' magazine in 1909 made mention of a "Self Watering Flower Box" that "protects plants from neglect". The sketch in the article (on the right) shows an inlet pipe and a water reservoir very similar in design to those seen today. A patent was actually granted in the United States in 1917 for a sub-irrigation planter. In Australia, where water is a scarce resource due to our climatic conditions and sometimes harsh growing environments, the application of wicking beds in organic agriculture is fast becoming a popular method to help grow plants and keep them healthy. However, until WaterUps® from DownUnder launched its wicking cell, all "wicking" and "sub-irrigation" applications were inbuilt in planters. WaterUps® is the first product that has allowed this well proven concept to be applied to virtually any plant watering environment, because of its modular design.
Evaluating the Efficiency of Wicking Bed Irrigation
An article published in September 2016 from the School of Natural and Built Environments, University of South Australia  provides details of a scientific study into the effectiveness of water wicking beds and the significant benefits they can deliver.
Subirrigation Historical Overview
An article published in Hort Technology June 2015 provides an extensive review of sub-irrigation or wicking in the United States.
AAEE NSW
AAEE NSW is the NSW chapter of the national peak professional association for environmental educators in Australia. AAEE NSW supports education for sustainability in NSW, in keeping with the three major roles of AAEE:
promoting the most extensive and effective use of education and engagement to help people live more sustainably and protect and enhance the local environment;
supporting its members and others in the sector via professional development; and
building greater strength in local networks that facilitate collaboration and skill sharing.
LNA Masters Landscapers Association
The LNA Masters Landscapers Association was formed in 1979 with an aim to raise the public perception of the Landscape Industry via increased quality in landscape construction works. Instrumental in the development of the first and then subsequent tailored and now nationally recognised landscape specific trade and diploma courses, LNA Masters Landscapers Association is enmeshed in governmental dialogue in furthering career paths for young industry professionals.
"With WaterUps and my eWood bed…… this is the best rocket and celery I have ever grown!"
Therese, Wagga Wagga NSW
"My tomatoes finished so I dug up my vege bed and installed 10 WaterUps® wicking panels. I have planted lettuce so far and more in existing beds as a control group. Updates to follow. Progress report – week 2 The WaterUps® bed is showing significant growth and vigour. Bed 2 using spare irrigation and watered every 2 days is half the size. Progress report – week 3 I'm really loving the WaterUps®! Not having to water every second day is terrific and lettuce is going gangbusters."
Robyn Sharp, Orange NSW
"… report on the extensive Wicking system in the roof garden you installed for us three years ago – the contents of which are now entering their third season. The Wicking devices you installed in each pot have fully met our expectations. The ease and infrequency of watering works very well and enables us to leave the garden untendered for weeks at a time whiles we holiday or visit our interstate family members. The low use of water (compared with neighbours with similar but normal roof gardens) is a very helpful feature of the Wicking system, especially with our citrus trees. The secondary feature is that water does not leak through pots, but is stored and used "on demand" by plants. This really means far less need for regular, sometimes daily watering. The less frequent waterings and the associated savings in time and watering; and also less mess on the patio floor from drainage from water draining through pots, which leads to more even plant growth and healthier plants."
Reginald Whiteley, Sydney
"Vince Hunt created a very large balcony garden for me in 2014. It comprised 37 large troughs and urns with box hedges, star jasmine, Indian Hawthorn and some Teddy bear magnolia trees. Vince installed a 'WaterUps® from Downunder' prototype wicking system that went in the base of each pot. Watering the garden simply involves filling the trough via a hidden pipe at the back of each pot with an overflow pipe that shows when the trough is full. To determine whether I need to refill the toughs, I use a piece of bamboo as a dipstick. In winter I need to refill the troughs about every 6 weeks and in summer, every 3 weeks – less if there has been rain that filters down from the top and replenishes the troughs. I strongly recommend 'Waterups® from Downunder' wicking system."
Dr Penny Adams, Sydney