Australian Innovator re-brands to make Wicking our World a reality  
Sydney-based WaterWix Pty Ltd, trading as WaterUps®, has re-branded its flagship product logo and tagline and launched a new website as part of a major evolution of its business.
The new logo retains the original WaterUps branding colours of blue and green while reflecting a cleaner and bolder design and type font. Wicking our World has replaced the From Downunder tagline.
CEO and Co-founder of WaterUps, Ian Collins, says the new design reflects the company's market leadership position. "Our wicking solutions have come of age and are proven and, in the climate-challenged world that we live in, are a product whose time has come. WaterUps can benefit nearly every gardener and garden in nearly any climate, hence the Wicking our World tagline."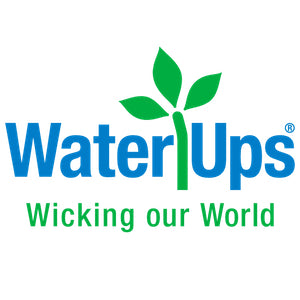 "Our vision is to have WaterUps in every garden so the whole world can gain the benefits of a WaterUps Wicking system," said Ian. "At WaterUps we see a future where wicking technology makes a major contribution to increasing food security, combats climate change in the urban environment (greener, cooler cities) and enables sustainable use of water."
In 2016 Sydney-based WaterUps launched the world's first modular wicking solution made from 100% recycled plastic which can save gardeners up to 80% on the cost and time spent on garden watering.
The product initially gained popularity amongst gardening enthusiasts, gardening celebrities like Angus Stewart, community gardeners and home gardeners, particularly during Covid-19 as food security became an issue.
More recently it has caught the attention of landscape designers, property developers, local councils, nursery growers and garden supply companies in North America, India, and United Arab Emirates for a multitude of reasons.
Aside from its water saving ability, it provides the optimal watering and growth environment for numerous varieties of plants, along with being able to capture and store water in periods of heavy rainfall. In short, it's a highly sustainable solution that works in times of drought and downpour.
The new WaterUps website has been designed to highlight the applicability of WaterUps to nine key market sectors:
Home gardeners
Landscape Architects and Designers
Property Developers
Local Government
Community Gardens
Nursery Growers
Schools & ELCs
Horticulturalists
Aid Organisations
The solution is sold online and via state / territory distributors, featured on the new website, which are responsible for a growing list of stockists and installers in each state.
Since Australia "opened-up" in its "living with Covid" phase, WaterUps has seen interest in its business grow exponentially from several commercial, industry and government entities that, like WaterUps, support many of the UN Sustainable Development Goals.
Based on the interest in WaterUps, the company is exploring off-shore manufacturing and distribution options to be suitably placed to make Wicking our World attainable.
WaterUps worked with Sydney graphic designer, Gary Oswald Collins, Queensland branding and marketing agency, Action Communications, and web development company, Vandalist, in bringing the new branding and website to life.