We have finished the first production run of our new WaterUps® square planters and they are now available for purchase. Made in Australia from "post consumer" re-cycled polypropylene, your purchase will help divert plastic from landfill. These planters are ideal for small space gardening, balconies, garden edging and similar areas. Grow herbs, vegies or add some colour with ornamentals – you can even grow trees and small shrubs in this stylish and functional planter.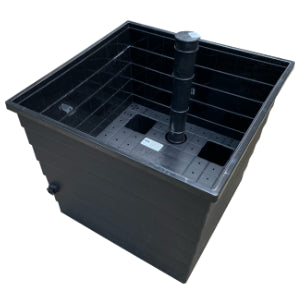 The in-built water reservoir provides a low maintenance and sustainable water supply to help your plants stay happy and healthy. As the planter uses a fraction of the water compared to a surface watered pot, it can be left for extended periods without the need to re-water.
The new WaterUps® square planter is the perfect wicking bed solution for smaller balconies or to grow some leafy greens or herbs. Given its size, you can grow anything from a small fruiting tree to herbs and leafy greens. They are also be ideal for a tomato or chilli plant. These planters are a great low maintenance solution for growing decorative ornamentals, particularly if you occasionally forget to water.
The dimensions of the new WaterUps® Square Planter are 480mm(L) x 480mm(W) x 400mm(H).
A couple of months ago we gave one of our early product trial samples to Katja Phegan from the popular gardening themed Instagram account My Urban Edible Garden to road test. This is what she had to say.
I am loving my new @water_ups Square Planter – filled to the brim with a compact eggplant, purple sage, Thai basil, red amaranth and purple perennial basil. The water reservoir in this pot means I don't have to worry about the plants drying out (great for balcony gardening!) and it has a great shape and size that can be used as a standalone pot or for a bigger display. All parts of the planter are made locally from "post consumer" re-cycled polypropylene, diverting plastic from landfill. If you only have a small space on a balcony or patio, this planter is for you!

Katja Phegan – My Urban Edible Garden
All you will need is 2 bags of potting mix and your plants.
Buy WaterUps® new Square Planter now Click Here
---