A Raised Vegetable Garden using WaterUps is key
A raised vegetable garden using WaterUps Wicking garden beds can help you become more self-sufficient when it comes to food supply while improve living a more sustainable life.
At WaterUps® we usually try and write a relevant post each month, focusing on different aspects of wicking bed technology. Our last post, just 2 weeks ago, looked at the performance of wicking beds in the recent wet climatic conditions. While we normally wouldn't have written another blog post until next month, we are not living in normal times!
So I asked Emmy, who is our person on the ground in Melbourne, to write a special post on what we can plant now to make us all more self sufficient food-wise. She is the perfect person for this, having worked in a market garden for the last few years and having taught people how to grow their own food. 
But before we do, this article, while written when Covid first impacted supermarket supply chains, is as relevant as ever in 2022, due to the rising cost of living that many families face. Growing your own food is a great way to eat healthily and stretch your dollars.
Over to Emmy....
Yep, we are in the midst of a confronting pandemic that has left many of us wondering what our future holds. The hour long wait to get into supermarkets just to find that there is no food left thanks to panic buying has left many of us feeling vulnerable, and that doesn't even begin to describe how those of us who are elderly, have a disability, care for those susceptible, or who live week to week are feeling.
Growing food won't protect us or our families from COVID-19, but having a continuous food source at home will take the pressure off food systems. It will give us the nutrient-dense, immune system boosting foods our bodies are craving, and more than anything, it will give us a meaningful and pleasurable way to spend time at home.
Growing food isn't a quick fix to the panic-induced food shortages we are experiencing, however, by starting now we will prepare ourselves for the months ahead and learn some basic skills in resilience.
This guide is tailored to small spaces, first time growers, and those who are getting started in the next few weeks. It is also tailored towards getting our food source ready for a crisis, so it is a guide to get you ready fast, with a focus on crops which will provide an abundance through autumn and early winter. This guide is also largely geared to using a wicking bed as the growing medium. Given the extensive research we have done and our experience generally, we know that food grows more quickly and with less maintenance in wicking beds.
Choosing where to put your wicking bed
Let there be light! Remember that Year 5 school lesson on photosynthesis? About plants doing a really cool magic trick by turning sunlight into food? Well keep that in mind when thinking about where to put your beds. I know that this is not necessarily easy when you are living in an inner city terrace, but think outside the box. Nature strips, front lawns, balconies, or even your neighbour's garden (social distancing kept in mind!) may all be fair game. 6-10 hours of sunlight is necessary for most crops so spend a day watching how the sun hits your space and think about how that will change during winter. If your south-facing courtyard shadowed by other buildings doesn't see the sun, try somewhere else for your raised vegetable garden.. Other considerations might be how a brick wall can provide extra warmth to plants, or a fence line might act as a great trellis for those snow peas, or that giant gumtree might not be a great companion plant to your kale.
Where is your water coming from? The second key element to making things grow is to ensure that they have enough water. Make sure that you have a tap close by to water your plants. After market gardening in a NSW drought for the last three years, water saving and efficiency is something I care deeply about. There are a few different ways to get water to your plants. You can use overhead water with a hose or sprinkler (easiest in the short term, but least water efficient), you could install drip lines (more finicky, but much more water efficient, could attach a timer), or you could use a wicking bed (most water efficient, most time efficient, most effective).
Prepping your soil
Oh soil, we owe you so much. Ever thought about the fact that our entire existence relies on the top 30cm of our soil? Plants require soil with a lot of organic matter, lots of minerals and nutrients, and drainage. Think about it, all the nutrients that go into creating a zucchini or corncob come from the soil it's grown in. Get a good quality potting mix that has a lot of organic matter in it. In Melbourne I like to go to Bulleen Art and Garden and pick up a mix of soils, including their mushroom compost and pea straw mulch to top up my garden. Wherever you are, make sure that you find a good quality organic mix and add a diverse range of composts – check our Soil Considerations Guide for more information. If you are starting in the ground, dig up as much grass as you can, lay sheets of cardboard down, and build a no-dig garden bed by layering mushroom compost and pea straw mulch lasagna style. Here is great guide for doing an in ground wicking bed using WaterUps® cells. The easiest and quickest way to grow a raised vegetable garden, however, is to get one of our wicking bed kits or build an IBC wicking bed  like Sophie Thompson has been doing on Kangaroo Island to aid bushfire recovery.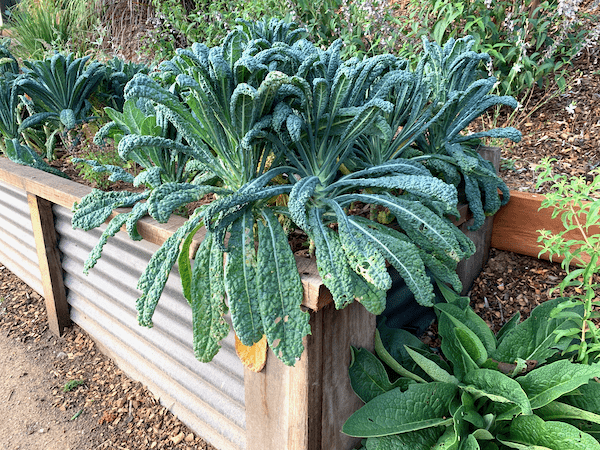 What to Grow in your Raised Vegetable Garden?
We are in crisis mode so we are focusing on crops that are quick and abundant. We are also planting seasonally (of course), so that means crops that thrive in cooler weather, and particularly ones that can be stored or preserved. I recommend you buy seedlings for most of the crops on this list as it will save you anywhere from 4- 8 weeks compared to growing from seed.
Leafy Greens
There are so many varieties of iron rich lettuce, silverbeet or chard, kale, rocket, and chicory. Leafy greens are easy to grow in wicking pots or in the raised wicking  beds and need as little as 150mm of soil. They are quick and usually harvestable within a month or two. They're giving (you can usually get many harvests out of them), and they require little maintenance. Oh, the quality of fresh homegrown greens faaaarr outweighs the floppy stuff you buy at supermarkets that goes slimy within a day. These guys love nutrient rich soil, need the sun, but require less sunlight than some other crops, and want to be watered daily unless they are in a wicking bed. Transplant seedlings about 30cm apart from each other and water in. The wicking should take over within a day or two. Most leafy crops are low maintenance but look out for aphids and cabbage moth on kale. Also keep an eye out for soggy lettuce seedlings, which could be a fungal disease. To harvest pick the outer leaves first and always leave ⅓ of the plant to re-grow. Delicious kale kraut or frozen silverbeet are great ways to store leafy green for a longer time.
Carrots
These are best direct seeded, need consistent moisture to germinate [so great for wicking beds] and will need to be thinned out when they are a couple of cm high, to approx 1 carrot per 2cm. There are so many fun varieties of carrots, ranging in shapes and colours. They will take a couple of months for bigger carrots, but store well in the ground and are oh so sweet when the cooler weather hits. They also require much less water than other crops after they have germinated, and require less nutrients from the soil. In wicking beds we have found that, if you have less than 30cm of soil, you can often end up with short, stumpy and sometimes strange shaped carrots. They still taste great though. As well as storing well in a fridge, carrots are absolutely delicious fermented and their tops make a great salad green.
Beets
The jury is still out as to whether beets should be directly seeded or transplanted, but since we are aiming for a quick turnaround I recommend you start with seedlings. They need 10-15cm in a bio-intensive bed, they come in a range of colours, and the tops make a great cooking green. The cooler weather makes them sweet and perfect for roasting, preserving, juicing or eating raw.
Radishes
The golden crop for all new growers. This very easy to grow root crop comes in so many shapes and sizes, with different levels of sweet and spiciness. The leaves can be eaten raw or cooked, the root can be preserved or eaten raw, they take up very little space and very little time. Direct sow this one, provide plenty of water initially until root growth starts and they can take advantage of the wicking action, and you will be rewarded very quickly.
Turnips
Grown similarly to radishes, turnips are fast growers and quite forgiving to inexperienced growers. I used to have a hard time selling turnips to my customers, but once I introduced them to sweet salad turnips like Tokyo or Hidebeni turnips I couldn't grow enough. Turnips have a huge range of reported health benefits, and are perfect for immune system boosting stews and soups.
Fennel
Fennel is unlikely to be a staple crop, however, this herb will provide an extra punch to those soups and salad. Plus when it goes to seed the flowers taste like sweet little liquorice All Sorts. These should be transplanted at 15cm and are generally quite low maintenance. Because they like their water they are ideal for wicking beds. If you do start to see aphids, spray some eco-oil on the affected leaves. These should take 8 weeks before ready for harvest, and are great fresh or preserved.
Snow Peas / Peas / Broad Beans
These generous crops give back to your soil, harvesting nitrogen from the atmosphere and putting it back into the ground. They require trellising and are reasonably heavy so make sure your trellis is strong enough. A fence line or a tee-pee could work quite well here. Sugar snap peas take longer than snow peas, you won't be seeing your broad beans until Spring, but all can be frozen and stored. Growing from seed with plenty of sunlight is the important. They will also like the consistent soil moisture of a wicking bed. The flowers and shoots are also delicious.
Sprouting Broccoli
I've gone with sprouting broccoli over heading broccoli here due to time. In my experience sprouting broccoli is also less likely to bolt and less likely to be affected by cabbage moth. When choosing your seedlings, go with the smaller/younger ones as brassicas suffer from transplant shock. Transplant them on a cooler day and water them in then the wicking will take over. This crop needs a lot of compost and would thrive from a weekly dose of seasol or worm juice. Just break off the sprouted stems and add them to your stir fry. The flowers are also tasty additions.
Celery
Celery is a great addition because it is amazing in immune boosting broths and soups. It also can be harvested slowly and will last in your garden for a long time without needing to be regrown. It's a slow grower, needs a fair bit of compost or liquid fertiliser, but will tolerate a shadier area. To harvest pick off the outer stems.
Herbs
Herbs such as dill, parsley, and coriander are ideal to get started in autumn. The are fast growing and low maintenance. Plant 15-30cm apart from each other, give them a good dose of liquid fertiliser every now and then, and harvest from the outside in. A great addition to make your lock-in food extra tasty.
Flowers / Companion Plants
Flowers will add to the gorgeousness of your garden and make you smile. For no other reason I think you should add this to your raised vegetable garden or patch. But there is another reason. Specific flowers are 'companion plants' and attract a variety of beneficial bugs and insects to your garden, helping you manage the pest load and pollinate your veggies. Try queen annes lace, marigolds, calendula, poppies, cosmos, sweetpeas, and sweet alyssum. You can usually find 'beneficial bug' seed mixes. Just broadcast them into your garden, rake in, tamp with your hand or back of the rake, and water in. Keep the watering up until they have germinated. Your self-isolation space will be the envy of all others.
Remember, growing is a journey that teaches us ever so slowly. We will not get everything right immediately, but if we plant and observe, there is a very high chance that you will see results that will help you avoid the supermarkets. By the way if you aern't an experienced gardener then a wicking bed is a very forgiving way to start. Growing doesn't have to be scary, it can be fun, it can bond you to your family or neighbours, and it can be an answer to looking after our overall wellbeing during times like this.
For a really in depth guide on how to grow your own vegetables, it's worth having at look at Grow Your Own – How to be an Urban Farmer. Written by Angus Stewart and Simon Leake it is a great resource for all growers.
Raised Vegetable Garden Food Kits
To get started with growing your own vegies, our self-watering Oasis garden bed kits are a great option as they come with practically everything you need to create your raised vegetable garden bed. See Here for details.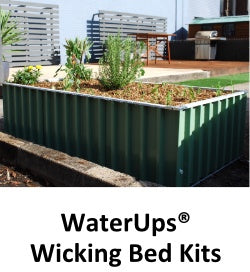 Posted: 20 March 2020 by Emmy King